Let's introduce HARSHAD MEHTA. Who was he? Why suddenly the internet got so much interested in his life? Was he a famous person?
Who is Harshad Mehta?
Born on 29th July 1954 in a Gujrat Jain family. Harshad Mehta's father was a textile businessman. Mehta's spent his childhood in Mumbai. Later he went to Madhya Pradesh due to family reasons. And, after some years of schooling, he went to Mumbai again, and then he completed his B.COM. and after college, he started working in multiple job fields for approx. 8 years.
Early life starts.
So, what was his journey from a simple man to a BIG BULL of the Indian stock market?it was the time when he started for the job and after some years when he had some experience in the job. He getting interested in stock marketing and investment in big businesses. Later on, he left his job and joined B Ambalal brokers. He becomes a stockbroker for some famous businessmen and companies also. It was the year 1984 when he started his own broker company named Grow More Research and Asset Management. He used a technique called Ready Forward Deal in his broker system. This is something related to the loan system which we use in an emergency. But there were many flaws in the system. Harshad understood these flaws and used these flaws in his scam business.
Harshad Mehta scam.
The scam of 1992, India's biggest stock market scam that crashed the whole stock market at that time. Harshad used the flaws between the transaction system of banks and the government. What he uses to do is, he created many fraud bank receipts and fake stamps. He used these stamps and receipts to manipulate the deal between two banks and also, he uses this for fixing the Bombay Stock Exchange.
Harshad and his chain system.
At that time (1984-1999) he created a chain system. The chain system was like if suppose Harshad want to sell government security to any bank he asks for some time and search for a bank which can purchase the security and give loan to the government. He used to do it with many banks at the same time. The time which he asks from each bank he used that time in such a way that the security money which he got for the government, he uses those money to increase the stock market. and if the government asks for the money, Harshad goes to another bank and takes money from that and gives them to the government.

How he became BIG-BULL?
Thus, he created a chain of multiple banks where he uses to do this transaction and borrow some time for paying them. But this idea of his soon getting some problem because sometimes the stock market gets more increased and he wants to invest more money. So, he needed more and more money to fulfill this need. Here he introduced the fake receipt and bank stamps and used that money for himself in the stock market. He used these fake receipts to show to the bank in place of the original one. At that time banks only understand that they got their money. Bank didn't doubt him generally because he gained the trust of the bank by working with them for many years. This made him the BIG BULL of the Indian stock system because he can easily manipulate the share market.
Scam and their affect to nation.
But what this money does in the stock market helped Harshad to increase his income. He doesn't only get himself the ultimate fortune, but by increasing the share market price he also increased the share of some MNCs like ACC many more companies. Now, the point is who doesn't want their money to get increased day by day. So, when people saw that the share market was increasing heavily, they started to invest in them and soon the share got more and more increment. Many people who don't even have much more share market knowledge started to invest there just because the share markets were increasing. When these stocks get at a peak Harshad uses to sell them and get his interest by multiple times. Now, he used this high-interest money to take those fake receipts back from the banks and pay them their money. Thus, banks got their money back and Harshad used to get his fake receipts back. This whole cycle was in full swing and everyone was getting their money.

Downfall of Harshad Mehta.
But this cycle didn't last for a much longer time. This cycle used to work only in those cases where the shares are increasing. And we all know shares can't be always in increasing order. Sooner or later share will go down in meantime. This exactly happened in Harshad's era. When the share started to decrease, he faced many problems and all his money got vanished. He was in a lot of problems. He could not able to return that money to banks and didn't get his fake receipt back to him. Sooner some banks started to notice that they have got some fake bank receipt.
TOI and Sucheta Dalal.
In April 1992, when Sucheta Dalal published an article in TOI and all of Harshad Mehta's plan got exposed. In this fraud whole Indian banking system faced a loss of 3000-4000 crore. Suddenly the stock market got one of the lowest values of all time. Among all the investors the chairman of Vijya Bank also faced a big loss. Due to this loss, he committed suicide.
Last stage for Mehtas's life.
Later Harshad Mehta got arrested on 9th of Nov 1992 and he was charged with 600 charges of fraud. He got a lifetime ban from investing in the stock market.
Scam 1992: (Web series 2020)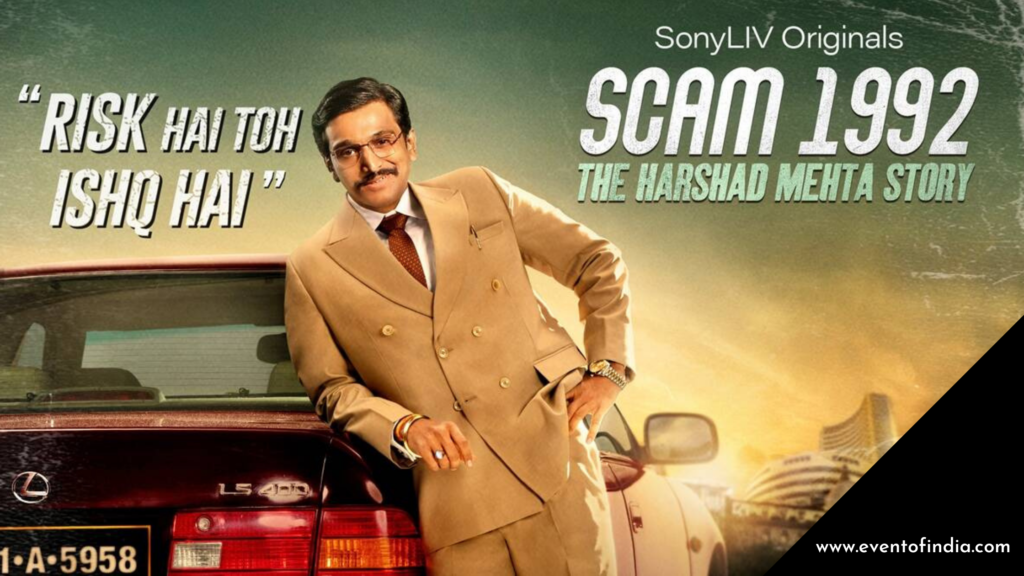 The whole incident that Harshad have done in the 80s and 90s. but suddenly in 2020 why the internet got so much interest in his life. It is because SONY has released a web series inspired by Harshad Mehta's life named SCAM 1992: The Harshad Mehta Story. Till now it is the highest-rated web series on IMDB with a 9.6 rating. You can watch this on the SONY Ott platform.