Footloose Run 2021
July 11, 2021 @ 5:00 am
Rs2000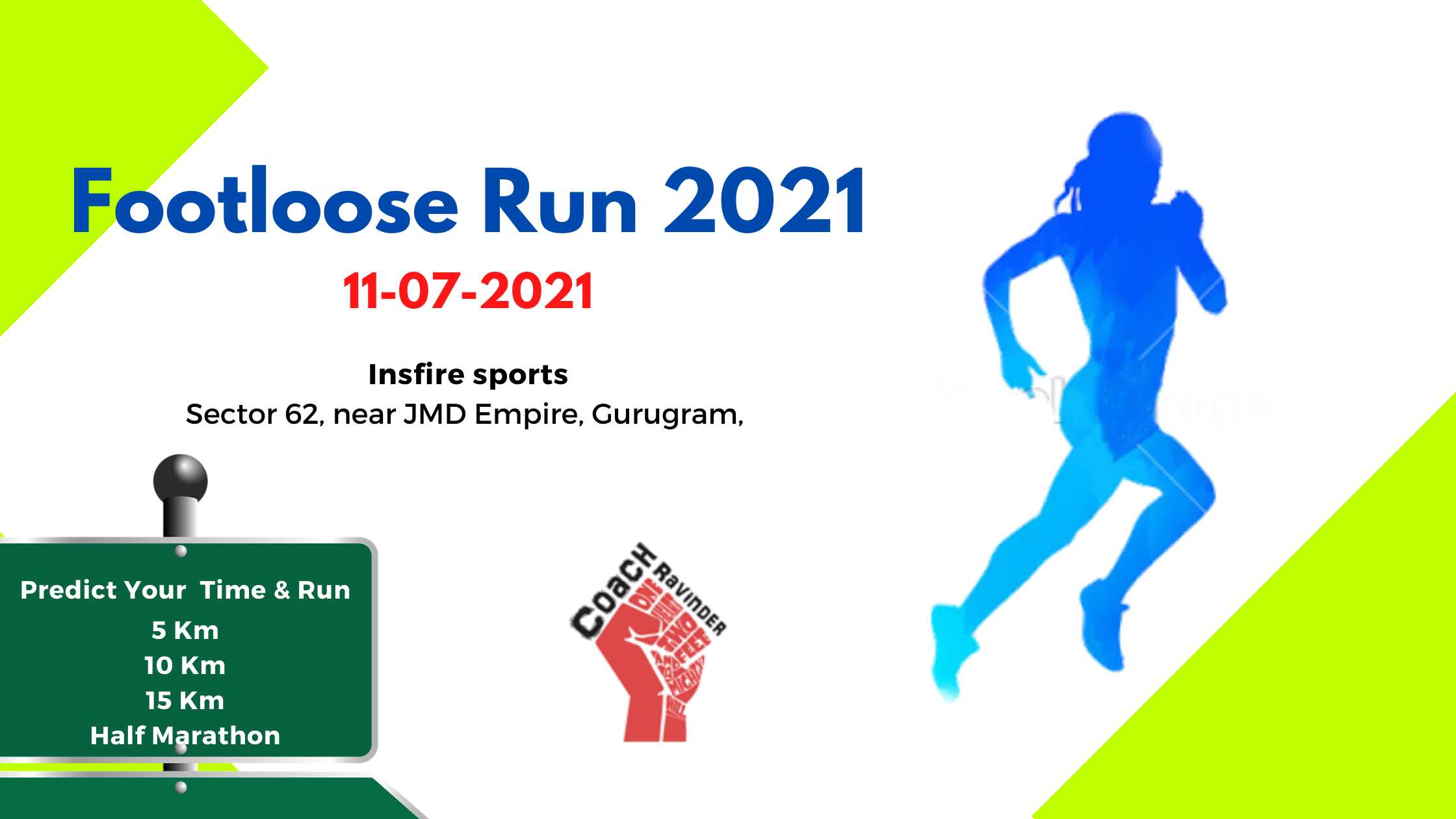 EVENT INFORMATION
The runners, especially those who love and live for the Joy of Running will be happy as you don't have to run faster to be a winner of the event or in the age category. The smartest will win here, what if you are a beginner and it's your first event.
Here
DLF
(dead last finisher) may be a winner as well!
You are not allowed to wear a watch, no, you can't even carry mobile phones. And, no music, please. All these gadgets are banned and will be taken from you before the start and if found using any of these then you will be disqualified.
You will predict your time of finish while registering (means predict how much time will you take to complete the distance). Then finish, as accurately as you can, around the predicted time to win.
You are in for the craziest deal on registration and then hot breakfast, cold & bubbliest drinks with a finisher medal, once you finish! Of course, it's a timed event.
Fun unlimited, it's gonna be …!!!!
Race Categories-
Half Marathon (5:30 am starting, Min age 18yrs, cut off time limit 3:00hrs)- 2000/-
10.5Km Run (5:45 am starting, Min age 14yrs, cut off time limit 1:30hrs)- 2000/-
5Km Run (5:50 am starting, Min age 14yrs, cut off time limit 50mins)- 2000/-
Flat Discounts-
50% discount till 29th March
40%  discount till 12th April
Registrations close on 26th April or as soon as the targeted slots are filled.
Participants' takeaway- Dri-fit Running Shorts, Breakfast, Summer Coolers, Finisher Medal & Timing Certificate
Refund Policy-
Cancellation and refund can be requested till 18th April 2021, in normal circumstances.
In case of cancellation or postponement of the event due to reasons beyond our control, alternate options will be offered to registrants to participate in our upcoming events.
Waiver Statement: I affirm and state that my ward is physically fit and sufficiently trained for participating in the designated race. He/she has been certified to be physically fit by a licensed medical practitioner and agree to indemnify the organizers its agents, employees and associates, the organizing committee, and other persons connected to the event against any losses, damages, costs, liabilities, claims or proceedings arising out of any misstatement and/ or misrepresentation made herein.